By the end of the seminar Introduction to Computer-based Text Analysis, which I offer for example as part of the supplementary programme Data Literacy at the University of Bayreuth, our students produce great seminar papers that need to be shown to a greater audience.
In the seminar, students are asked to work on self-selected research questions using computational methods of text analysis, i.e. corpus analysis and natural language processing (NLP). The methods are new to the students in that they never worked with them before. That's why the seminar consists of some introductory part in which the methods are presented and their applicability using R is discussed. Students then formulate an appropriate research question, find or create a data set, and apply the newly acquired methods to the data set.
In the vast majority of cases, students have had no prior exposure to programming. This means that in the seminar they not only learn to apply the methods for text analysis in R, but often teach themselves basic skills in R as well.
Below, you find some of the posters that have been created over time.
Winter 2020¶
This term's course had the umbrella topic Analysis of political speech in the UN Security Council and was conducted in cooperation with Prof. Dr. Steffen Eckhard from University of Konstanz.

A key challenge of our time is the analysis of a steadily growing amount of text. Every day, new collections emerge that no human being can assess in a reasonable amount of time: be it newspaper articles, statements, protocols, blog posts, or posts in social media. To facilitate the analysis of large amounts of text, we draw on computer-based methods. In this seminar, students engage with such procedures for quantitative text analysis, methods for the extraction of text-based information, and statistical procedures to analyze huge text corpora. Students learn and apply these methods based on R. An important part of the seminar is to critically reflect on the results of automatic text analysis.

The empirical focus of the seminar are all 77.815 speeches in the United Nations Security Council between 1995 and 2019 that have been published in processable format online. The UN Security Council is the key global decision-making forum for matters of international peace and security. In the seminar we will address the political functioning of the Security Council, which objectives states pursue with their public speeches, and we will assess what (political) science questions can be answered based on text analysis of speech data.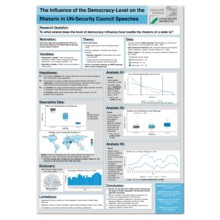 The Influence of the Democracy-Level on the Rhetoric in UNSC Speeches
Daniel Baumann, Mia Nahrgang

Our analysis applies the democratic peace theory to a new area of study by investigating whether the level of democracy influences how hostile the rhetoric of a state is. To answer our research question, we use a dictionary approach to determine the hostility level of countries in speeches given in the United Nations Security Council (UNSC), an important global stage which offers the occasion to frame issues or advocate for legitimacy.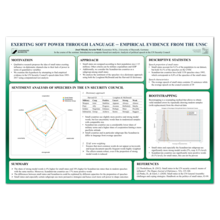 Exerting Soft Power Through Language – Empirical Evidence From UNSC
Josef Möschl, Severin Wolf

In our work we aim to investigate whether small states use more persuasive strategies and hence exert more soft power to shape outcomes of international debates. Using speech data from the UN Security Council from 1995-2017, we find empirical evidence that the speeches of small states, but in particular of Scandinavian countries have a different sentiment.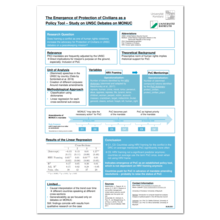 The Emergence of Protection of Civilians as a Policy Tool
Birke Pfeifle, Maren Lüdecke

The legal imperative of Protection of Civilians (PoC) has evolved into a new norm for UN peacekeeping missions. This shift in normative priorities of the international community can be reflected in debates on peacekeeping mandates among UNSC members. We suppose that UNSC members framing a conflict as one of human rights violations during mandate negotiations are also likely to push for authorization of PoC. Therefore, this study sets out to answer the following question: Does framing a conflict as one of human rights violations increase the advocacy for PoC in UNSC debates on a peacekeeping mission?

Previous Terms @ TUM¶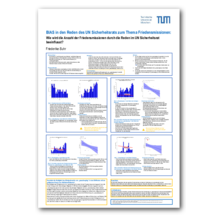 BIAS in den Reden des UN Sicherheitsrats zum Thema Friedensmissionen
Friederike Suhr

"In almost every major crisis of the last decade - from Syria to Ukraine, from Myanmar to Yemen - the UN Security Council was unable to play a meaningful role because of inability of states to rise above their national interests and obstructive use of veto. (...)" Präsidentin der Republik Litauen, Dalia Grybauskaite, auf der Generalversammlung der Vereinten Nationen in New York, 2018. Wird die Anzahl der Friedensmissionen tatsächlich positiv durch mehr Diskussionen und einer damit verbundenen höheren Verwendung des Wortes "peacekeeping" bestimmt?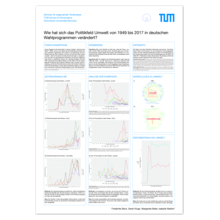 Wie hat sich das Politikfeld Umwelt von 1949 bis 2017 in deutschen Wahlprogrammen verändert?
Friederike Beck, Sarah Kluge, Margareta Maier, Isabella Waldorf

Umweltschutz als Politikfeld wandelt sich Ende der 80er Jahre radikal: statt auf einzelne Umweltverschmutzungen zu reagieren, wird Umwelt nun ganzheitlicher betrachtet und nimmt insgesamt mehr Raum im politischen Diskurs ein. Diese von James Meadowcroft aufgestellte Hypothese wollen wir anhand einer Analyse der deutschen Wahlprogramme seit 1949 überprüfen.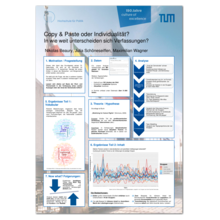 Copy & Paste oder Individualität - In wie weit unterscheiden sich Verfassungen?
Nikolas Beaury, Julia Schöneseiffen, Maximilian Wagner

Das Grundgesetz hat seinen 70. Geburtstag gefeirt. Oft wird es als Glücksfall für Deutschland o. Ä. bezeichnet. Gerade die ersten Artikel, in denen die Menschen- und Bürgerrechte erklärt werden, sind zentral. Da stellt sich die Frage, wie das in anderen Ländern aussieht? Was steht in anderen Verfassungen? Und vor allem: Lassen sich alleine auf Basis der Wort- und Themenwahl in der Verfassung eines Landes Aussagen über den Grad der Demokratie treffen?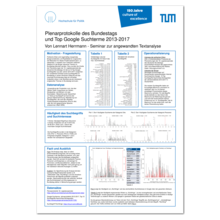 Plenarprotokolle des Bundestags und Top Google Suchterme 2013-2017
Lennart Hermann

Politischen Eliten wird regelmäßig mangelndes Bürgerverständnis und Realitätsferne vorgeworfen. Dieses Projekt untersucht, in wieweit und in welchem zeitlichen Abstand für die Bürger relevante Themen im Bundestag diskutiert werden. Dazu wurden die Inhalte von Plenarsitzungen des deutschen Bundestags mit Top Google-Suchbegriffen verglichen. Ein verstärktes Auftreten eines Suchbegriffes im Bundestag mit zeitlicher Nähe zum maximalen Suchinteresse lässt ein schnelles Aufgreifen eines in der Bevölkerung als interessant eingestuften Themas im Bundestag vermuten.

---